Golden Technologies - Assisted Lift Recliners
Golden's products set the pace in our industry for performance, convenience and comfort, because they all begin with superior materials, designs and craftsmanship. As a family-owned and operated company, Golden Technologies is proud to be the world's leading manufacturer of luxurious lift and recline chairs. We take great satisfaction in the superb craftsmanship and lasting durability of all of our growing lines of Lift Chairs, Power Wheelchairs and Scooters. Golden Tech uses only the highest quality components to give you the ultimate in comfort, convenience and style — with minimum maintenance.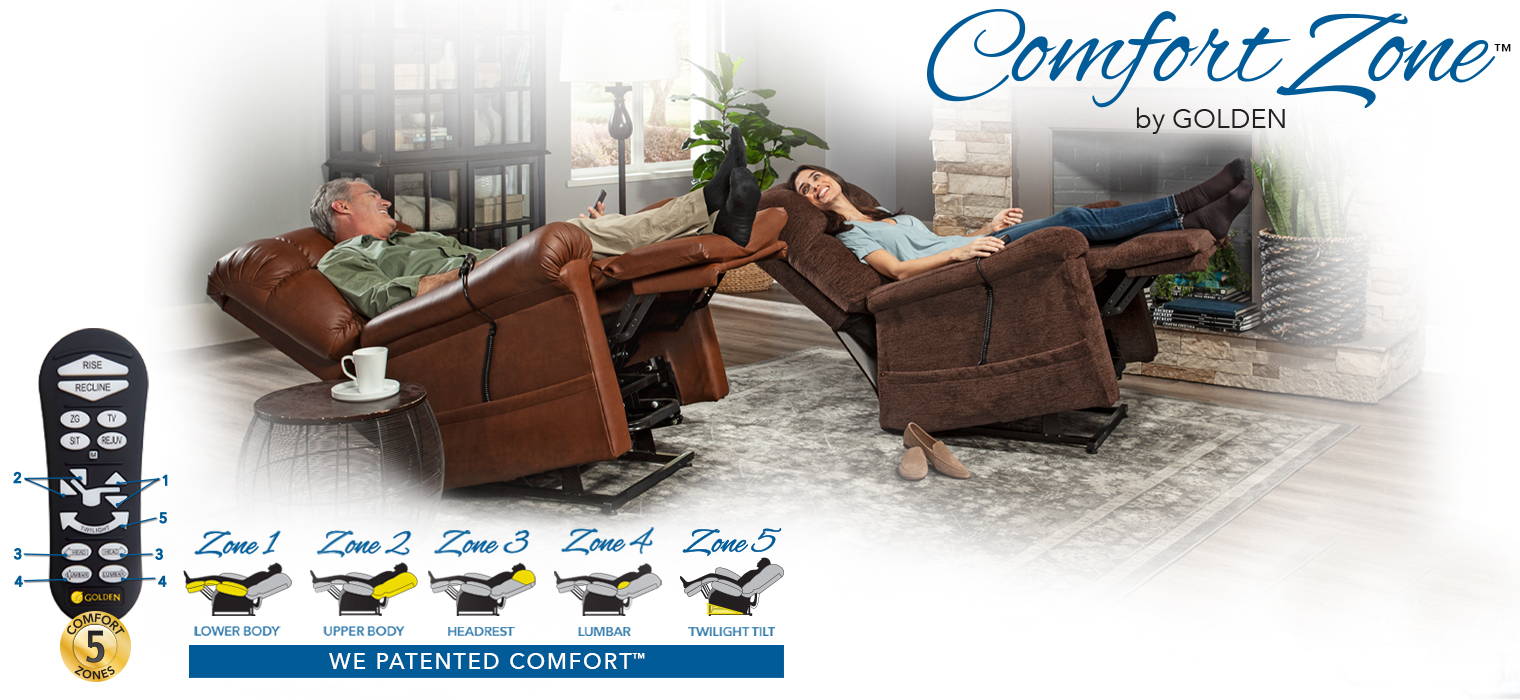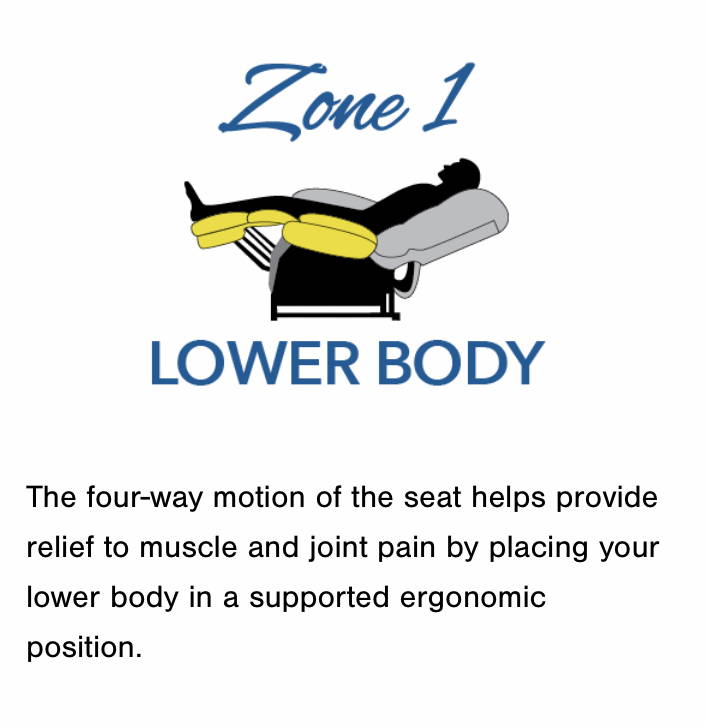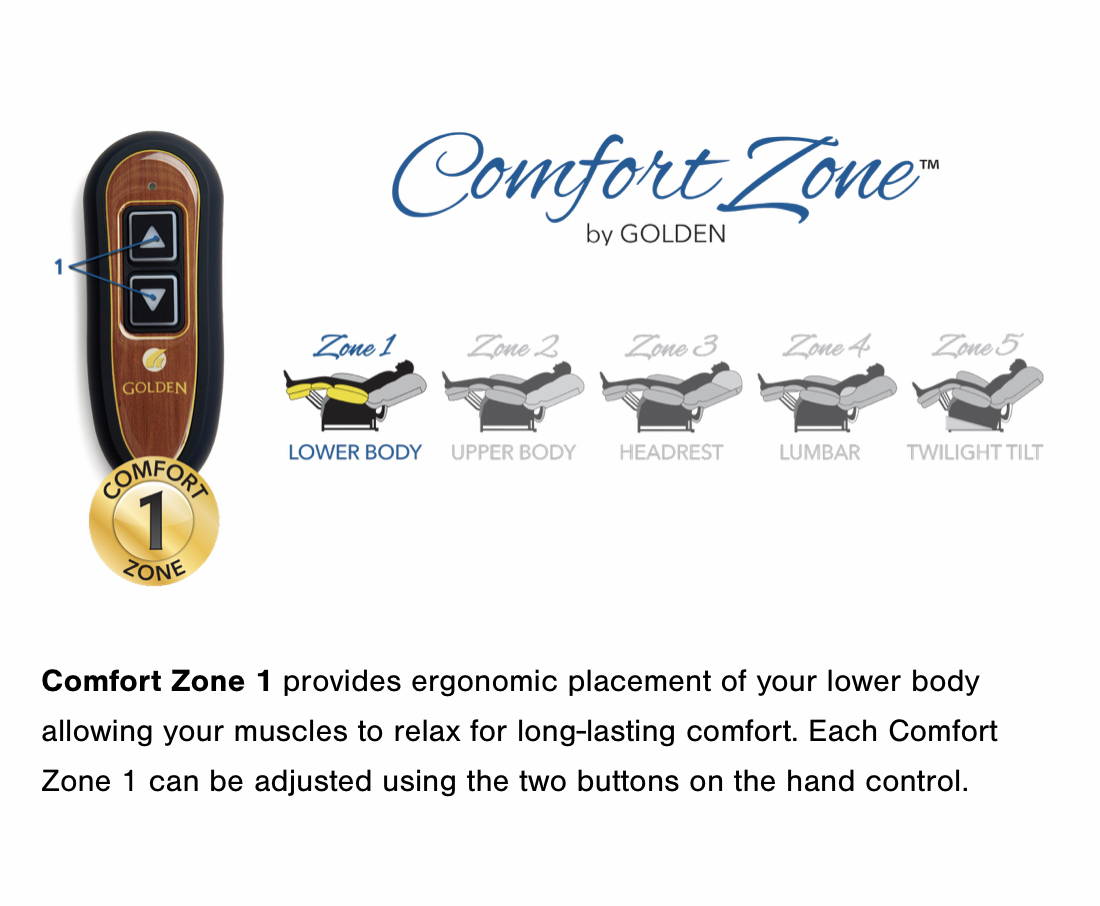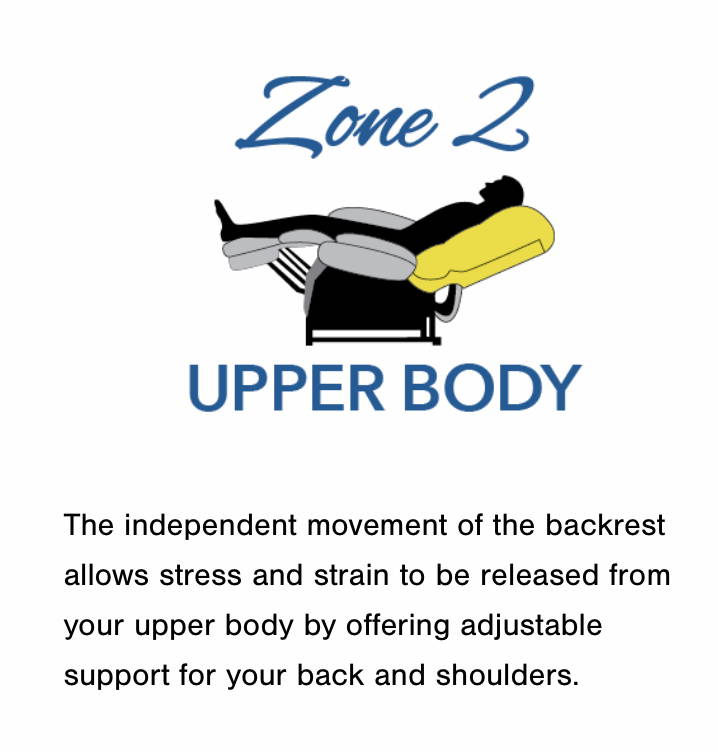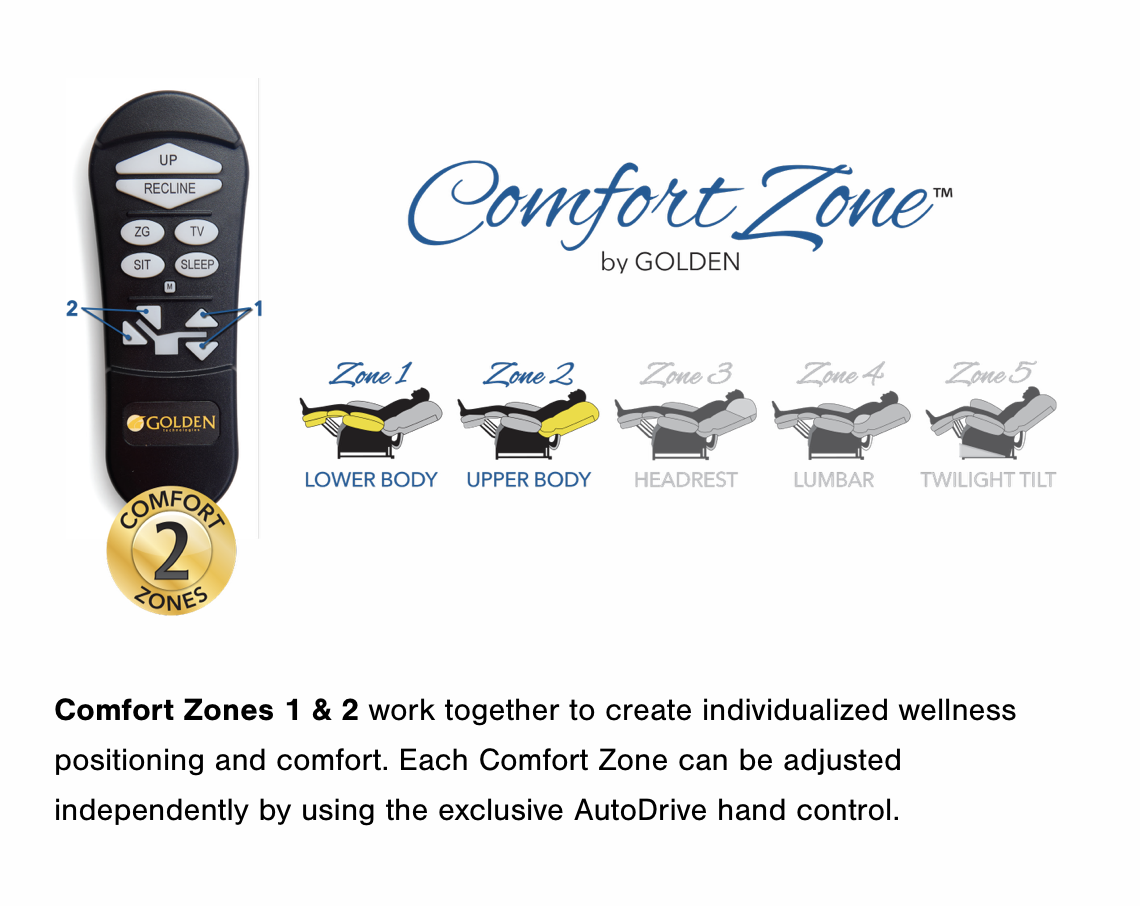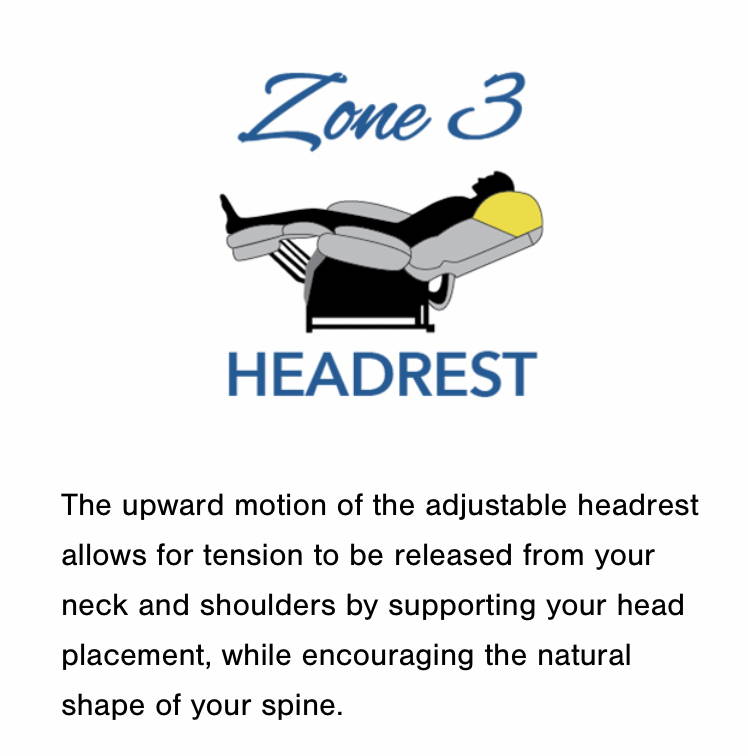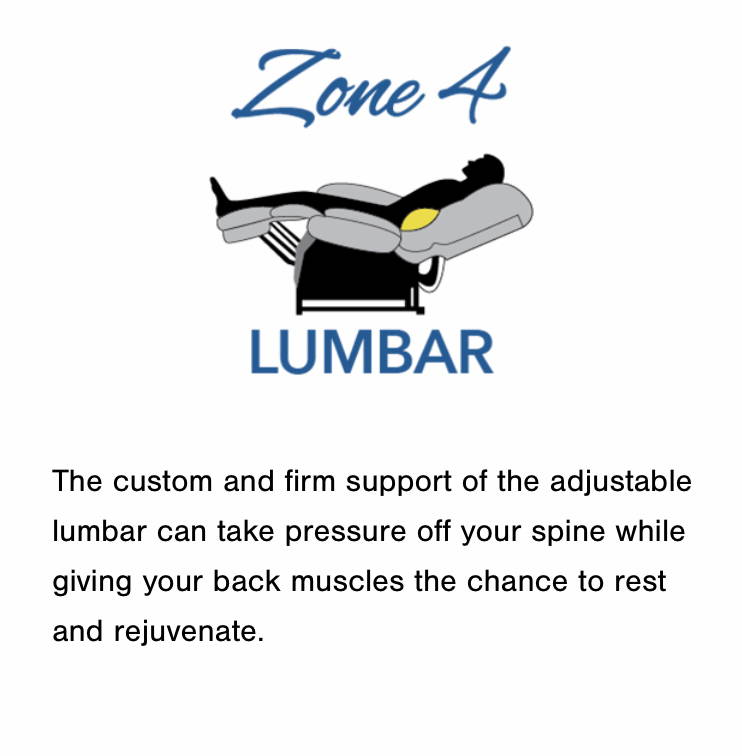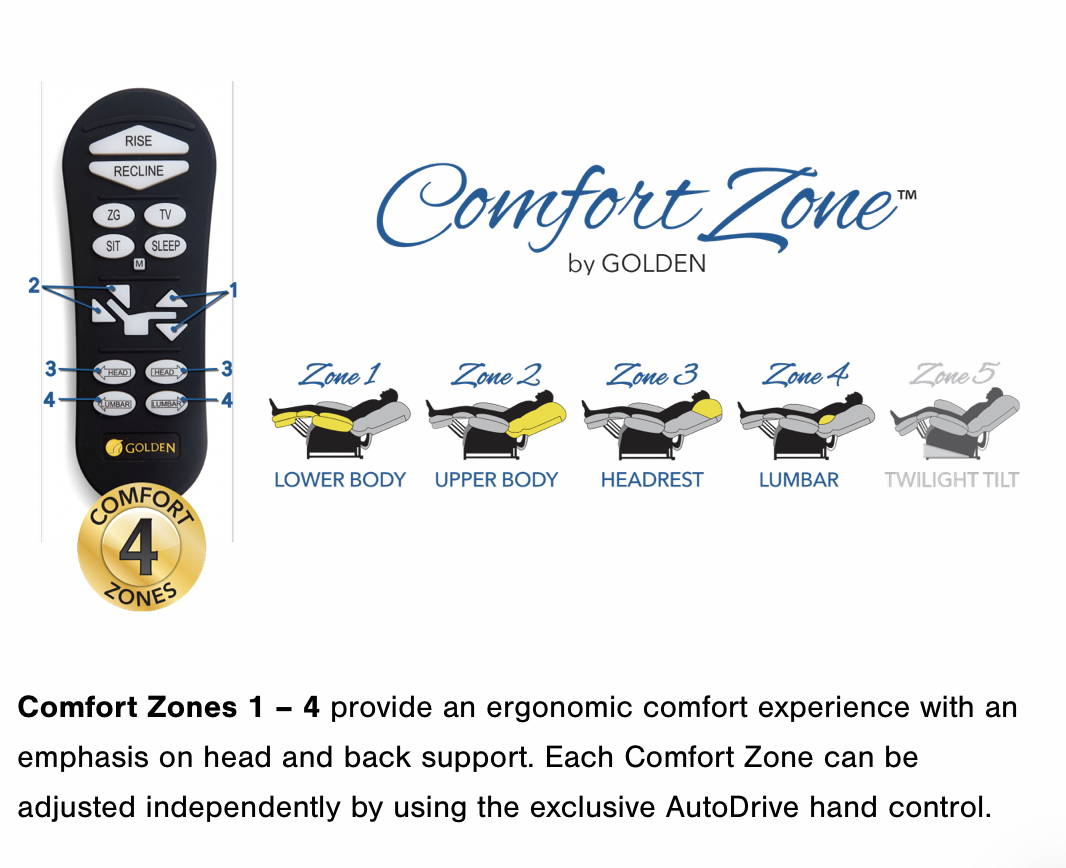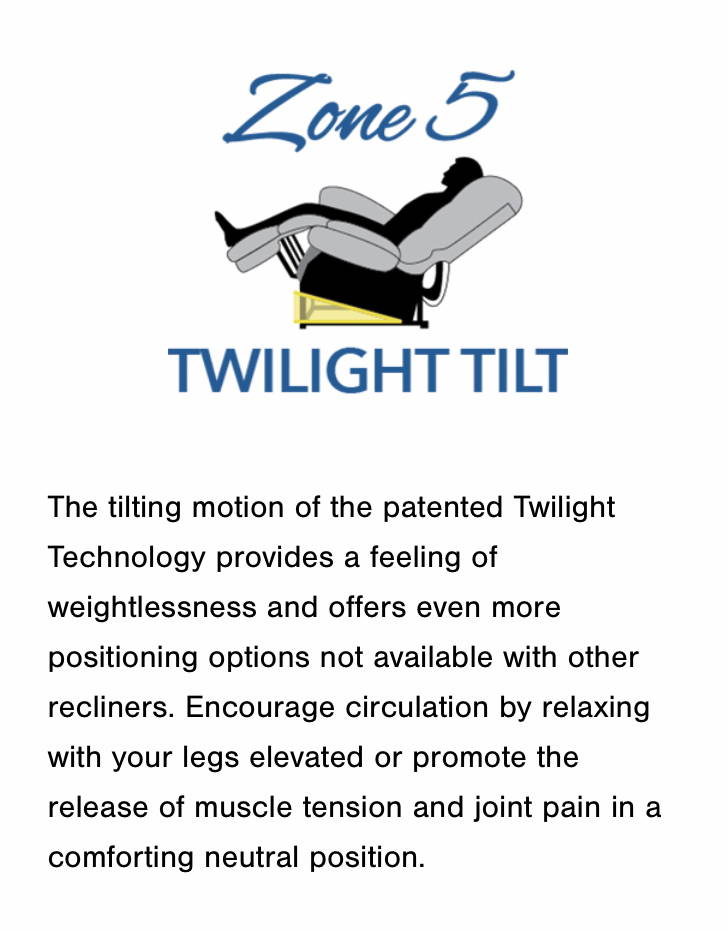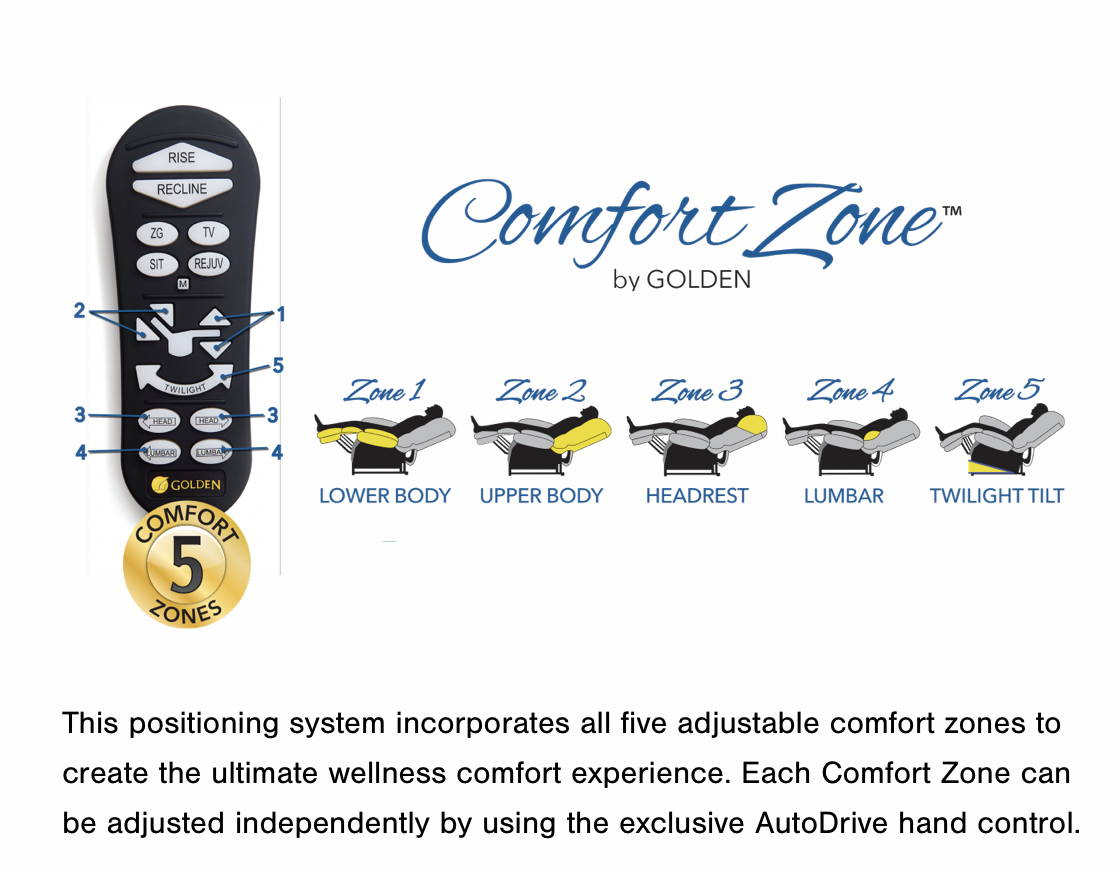 Lift Chairs with All 5 Comfort Zones

Twilight Technology
Golden's patented Twilight Technology provides a tilting motion that cradles your body allowing you to achieve extreme Zero gravity, Rejuvenate, and TV-watching positions while enjoying the world's finest power reclining experience! Now complete with adjustable headrest and lumbar support, Golden's Twilight lift recliners offer the greatest array of rejuvenating positions to find the perfect angle for ultimate comfort and relaxation. You haven't known true comfort until you've tried a Twilight lift chair from Golden!
Shop The MaxiComfort Series

Understanding The Key Features Of Assisted Lift Chairs
Highest Quality Recliner Fabrics
When it comes to performance, comfort, and style, Golden Technologies' array of power lift recliners is unmatched in the industry. It's no wonder that the fabric we use gives you the same high quality and range of choices to please every taste and need—including our exclusive luxury Brisa® and high performance fabric with Alta™ technology, plus a full palette of plush fabrics and colors. At Golden, we understand how important your lift chair is to you, and we want you to relish in its appearance and durability, as well as its functionality.
Model number is verified.
Fabric color is verified.
Options are verified (inapplicable).
Chair is inspected for fabric cleanliness.
Upholstery is inspected for the direction of nap.
Upholstery is inspected for seam integrity and holes.
Any loose threads are trimmed.
Leg levelers are checked and tightened.
All frame bolts are tightened.
Footboard gap verified as even and straight.
Placement of five French tacks is verified.
Proper law tags are located and verified.
Motor clevis pins are locked.
All wires are wrapped and fastened with tie wraps.
Lift grace bolts are securely fastened to bottom arms.
All scissor mechanic bolts are present and tight.
Poly packs are inspected and no staples are touching the metal frame.
Chair is inspected for broken, damaged, or missing parts.
Frame is inspected for split wood.
Chair is inspected for loose staples.
Heat function is turned on and tested, when applicable.
Washer placement, number of washers at motor clevis, and straps are verified.
Serial number labels are attached to the lift frame and hand control cord.
Lift and recline buttons are tested for functionality.
Sleep position is verified.
Sit position is verified.
TV position is verified.
All massage buttons and massage zones are turned on and tested, when applicable.
Hand control LED lights are observed. Lights are dimmed when not in use and brightened when any button is pressed.
Up and down arrow buttons for back and footrest are tested for functionality.
Transformer is plugged in and LED lights (SmartTek

®

) are checked on the transformer, hand control, and the motor wire.
Chair is ridden from fully reclined to the full lifted, ensuring smooth and quiet movement.
While seated, the chair is inspected for the proper foam and firer regulation, i.e. no bumps or uneven stuffing.
Proper owner's manual is added.
Arm covers are added, when applicable.
Appropriate hand tags are applied with swift tack gun.
Model number, model options, serial number, and sales order number are scanned from work order and box tag.
Motor serial number is scanned.
Transformer serial number is scanned.
If the chair passes inspection, it is sent to boxing with the box labels.
Golden Offers Lifetime Warranty on Exclusive Luxury Fabric Line
Golden is pleased to offer the only lifetime warranty for all Brisa® breathable fabrics on lift chairs in the industry!
Brisa® is an incredibly soft and luxurious faux leather fabric available on lift chairs exclusively from Golden Technologies. Brisa is the first polyurethane fabric designed with a unique ventilation system that enables it to breathe, keeping you cool and comfortable, no matter how long you use the chair. Brisa's subtle grain pattern is created through a natural process that simulates the supple surface of genuine leather. You can choose from a tasteful assortment of colors.
Stain, scratch and blemish resistant
Clinically proven to be more resistant to temperature changes than vinyl and genuine leather
Superior comfort in all climate conditions — stays cooler than leather in warm weather conditions
Resists cold weather stiffening and cracking
Cleans effortlessly with soap and water
Lifts most stains with alcohol-based household cleaning solutions