7 Important Factors to Consider in Choosing the Right Bathroom Grab Bars for the Home
Did you know that falls in the bathroom are a significant concern, leading to thousands of emergency room visits each year? With many older adults choosing to age in place, ensuring a safe home environment becomes crucial. That's where grab bars come in. In this article, we'll provide you with the guidance you need in choosing the right grab bars that enhance your bathroom's safety, functionality, and aesthetics.
Important Factors To Consider
ADA Compliance
It's essential to choose options that adhere to the guidelines set by the Americans with Disabilities Act (ADA). ADA-compliant grab bars have undergone thorough research, testing, and quality control to ensure they meet the highest safety and accessibility standards. ADA has also set standards for grab bar placement in the bathroom, to provide the necessary support for a safer bathroom environment. Throughout this article discussion, we will incorporate the relevant ADA requirements for the factors we cover below. (For the complete ADA guidelines, please visit their website.)
Length and Size
Choosing the right length and size of grab bars is essential for their functionality and effectiveness. Consider the dimensions of your bathroom and the specific areas where you require support. Ensure that the grab bar you select is long enough to provide the necessary assistance and fits comfortably within the space.
HealthCraft Easy Mount grab bars offer a range of sizes from 12" to 42", ensuring you can find the perfect fit for your bathroom.
ADA guidelines regarding length and size:
·         Grab bars must be easily gripped by the hand, typically 1 ¼-2 inches in diameter for circular bars, or 2 inches in cross-section with a radius of 4-4.8 inches for non-circular bars.
·         Near the toilet: Side wall grab bars should be at least 42 inches long, while rear wall grab bars should be at least 36 inches long.
·         In the bathtub and shower: Grab bars should be at least 24 inches long.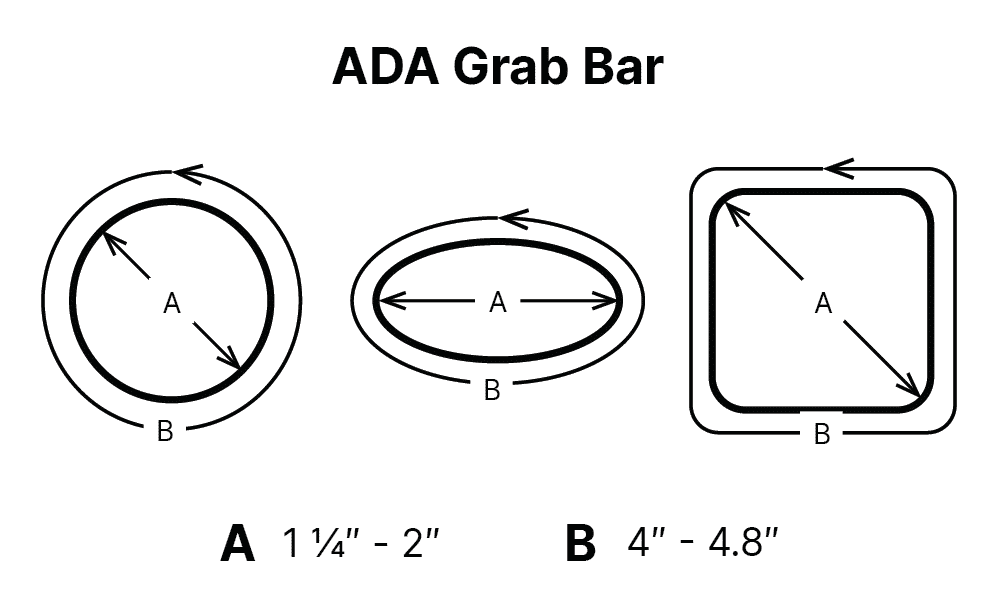 Easy Installation
When it comes to installation, it's understandable to want a hassle-free experience. HealthCraft Easy Mount grab bars, for instance, are designed with flanges featuring nine holes, providing versatility and ease during installation. Carefully follow the instructions for proper installation to ensure maximum safety and stability or seek the help of a certified HealthCraft installer. As per ADA standards, installed grab bars must be stable and must not rotate in their fittings.
Weight Capacity
Consider the weight capacity of the grab bars you select to ensure they can support the needs of all users. Manufacturers typically provide weight capacity information for their grab bars, ensuring you can choose one that meets your specific requirements.
ADA requires that all components of the bars, including fittings and support structures, must withstand at least 250 lbs. of weight. If you're looking for a higher weight capacity, HealthCraft's Plus and Invisia series can support up to 500 lbs., while the SuperPole boasts a weight capacity of 300 lbs.
However, it's important to note that certain installation factors can decrease the weight capacity of grab bars, especially when there is only a partial structure available for mounting. In such cases, seeking professional advice is crucial to ensure the grab bars can safely support the intended weight.
Quantity and Positioning
Proper placement of grab bars is essential to maximize their effectiveness and ensure safety, especially in high-risk areas in the bathroom. Here are some ADA guidelines for grab bar placement:
There should be at least 1½ inches of space between the bar and the wall to allow easy gripping. Any objects below and at the ends of the grab bar should maintain a 1½-inch distance to avoid obstruction, while objects above should be at least 12 inches above the top of the bar.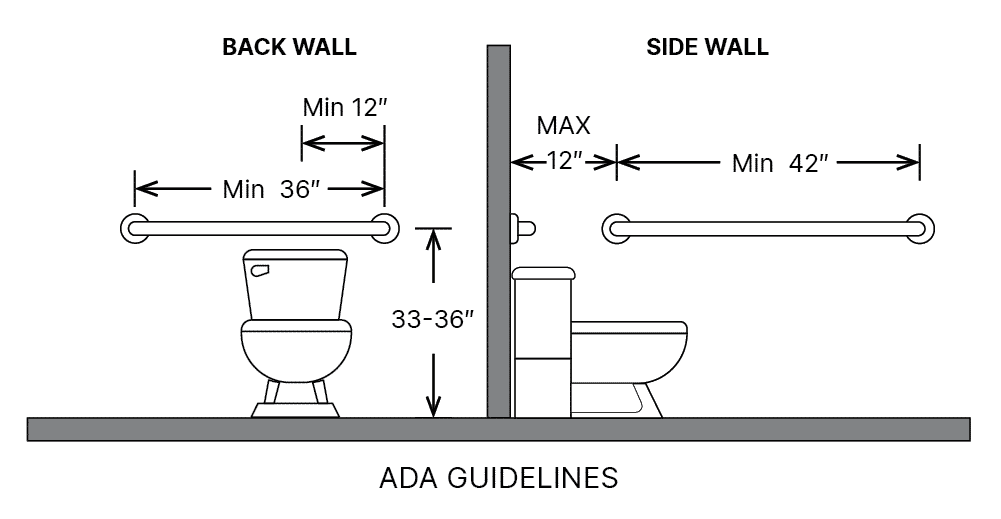 Near the toilet:
Side wall grab bars should be at least 42 inches long, with one end positioned 12 inches or less from the wall behind the toilet, and the other end at least 54 inches away from that wall. The bar should be between 33 and 36 inches above the finished floor, providing convenient support for sitting down and standing up.
Rear wall grab bars should be at least 36 inches long, with one end extending 12 inches past the centerline of the toilet on the side facing the other grab bar, and the other end extending 24 inches away from the centerline.
In the bathtub and shower area:
Bathtub areas require two grab bars on the back wall, one located 8-10 inches from the top of the bathtub's rim and the other parallel to it between 33 and 36 inches above the floor. There should also be a grab bar positioned on the front edge of the tub.
Transfer showers (designed for individuals who have sufficient mobility to enter the shower independently while standing) should have grab bars running along the control and back walls, extending at least 18 inches away from the control wall to a point opposite the seat.
The grab bars in transfer showers should be positioned 33-36 inches above the floor for optimal accessibility. If multiple grab bars are installed in the transfer shower, they should all be positioned at the same height, ensuring uniform accessibility throughout the space.
Roll-in showers (specifically constructed to accommodate individuals who use wheelchairs, allowing them to enter the shower without the need to transfer from their wheelchair) with seats require grab bars on the back and side walls opposite the seat, but not above the seat itself.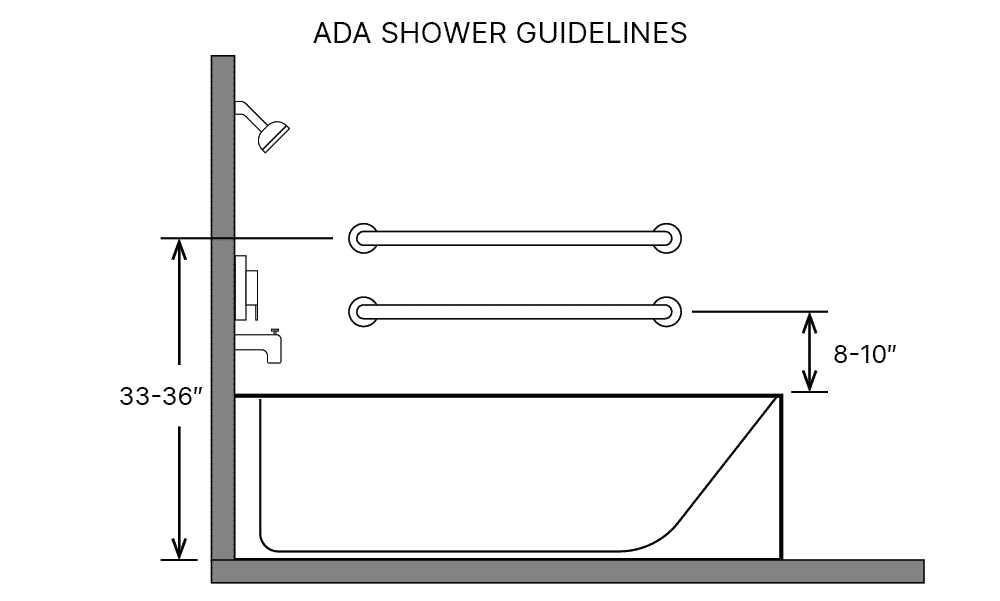 If you have limited wall space or face structural constraints to enable stable installation, alternatives such as the SuperPole, a floor-to-ceiling grab bar, can be a suitable solution.
Additionally, consider grab bars from the Plus and Invisia series, which are multifunctional and can be integrated into existing bathroom accessories, eliminating the need for separate spaces dedicated to grab bars.
Aesthetic Appeal
Who says safety has to come at the expense of aesthetics? Fortunately, there are grab bar options available that seamlessly blend safety with style. Explore different finishes, such as black, matte, stainless, chrome, and bronze, and designs to find grab bars that complement your bathroom's decor.
If you are looking for something more discreet, consider HealthCraft's Plus and Invisia lines. Cleverly disguised as everyday bathroom accessories like toilet seats, shampoo shelves, towel hooks, and accent rings, these hidden grab bars provide an elegant and space-saving solution.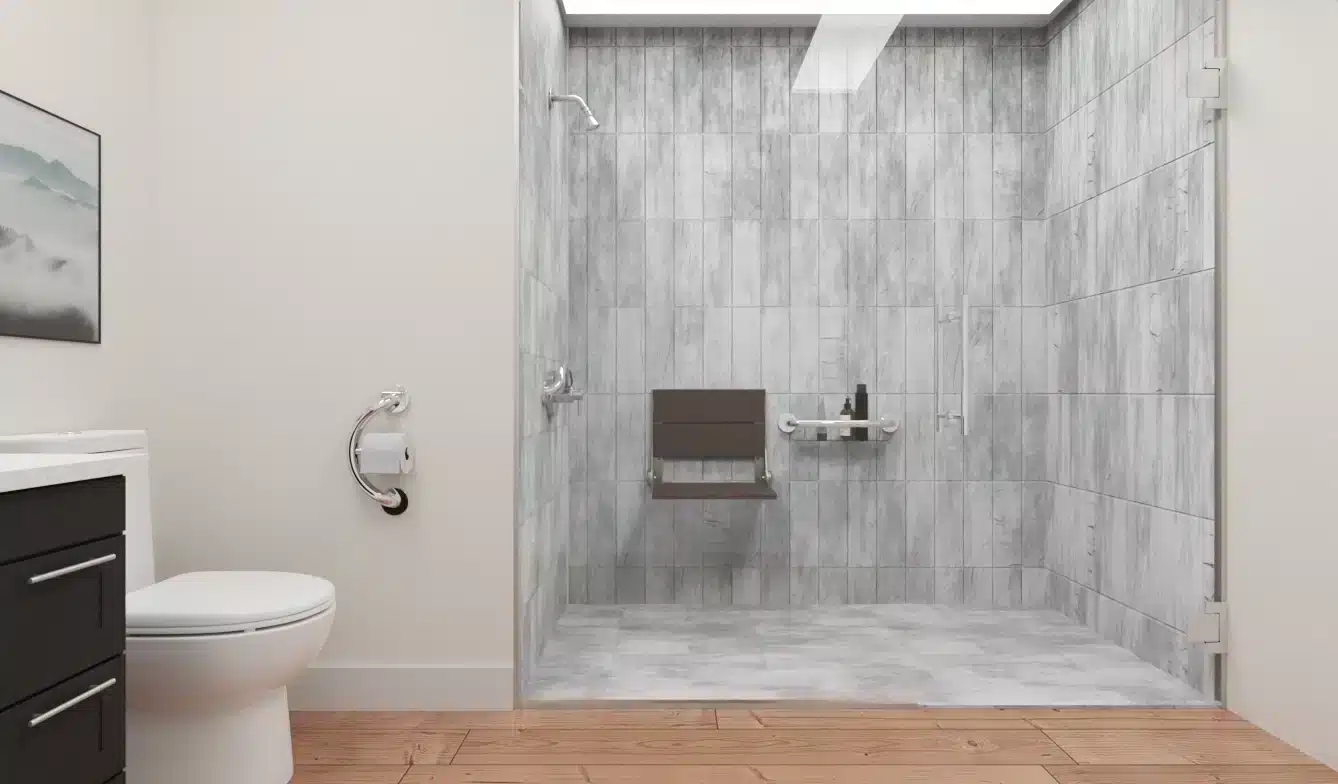 Expert Support
If you're feeling overwhelmed or uncertain about the selection and installation of grab bars, remember that expert support is readily available.  Manufacturers, distributors, and home accessibility contractors themselves can offer valuable guidance, including installation services, product recommendations, and advice on grab bar placement. Their expertise in accessibility solutions ensures that you receive personalized advice tailored to your unique situation. Occupational therapists (OTs) can also provide valuable assistance in assessing your specific needs and recommending credible manufacturers and brands that meet ADA standards.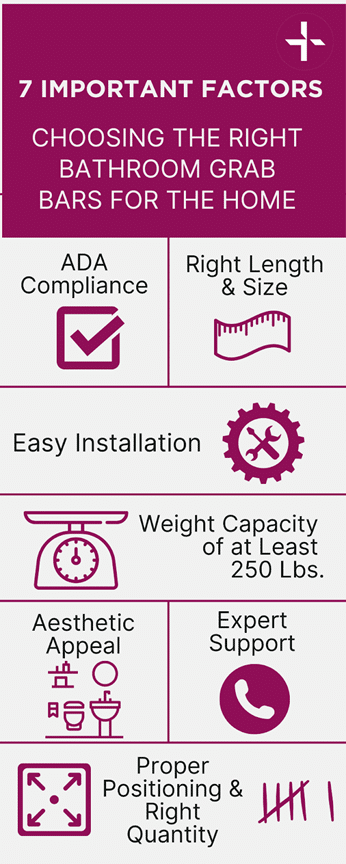 By following the ADA guidelines for grab bar placement and considering key factors such as ADA compliance, length and size, easy installation, weight capacity, quantity and positioning, and aesthetic appeal, you can make informed decisions and create a bathroom that is both functional and visually pleasing.
Remember, expert support is available to assist you throughout the process. Manufacturers, distributors, home accessibility contractors, and occupational therapists can provide valuable guidance, installation services, and product recommendations tailored to your specific needs. Don't hesitate to reach out to them for personalized advice and assistance. With the right grab bars in place, you can ensure a safer bathroom environment for yourself and your loved ones. So, take action today and prioritize the well-being and independence of everyone in your home.