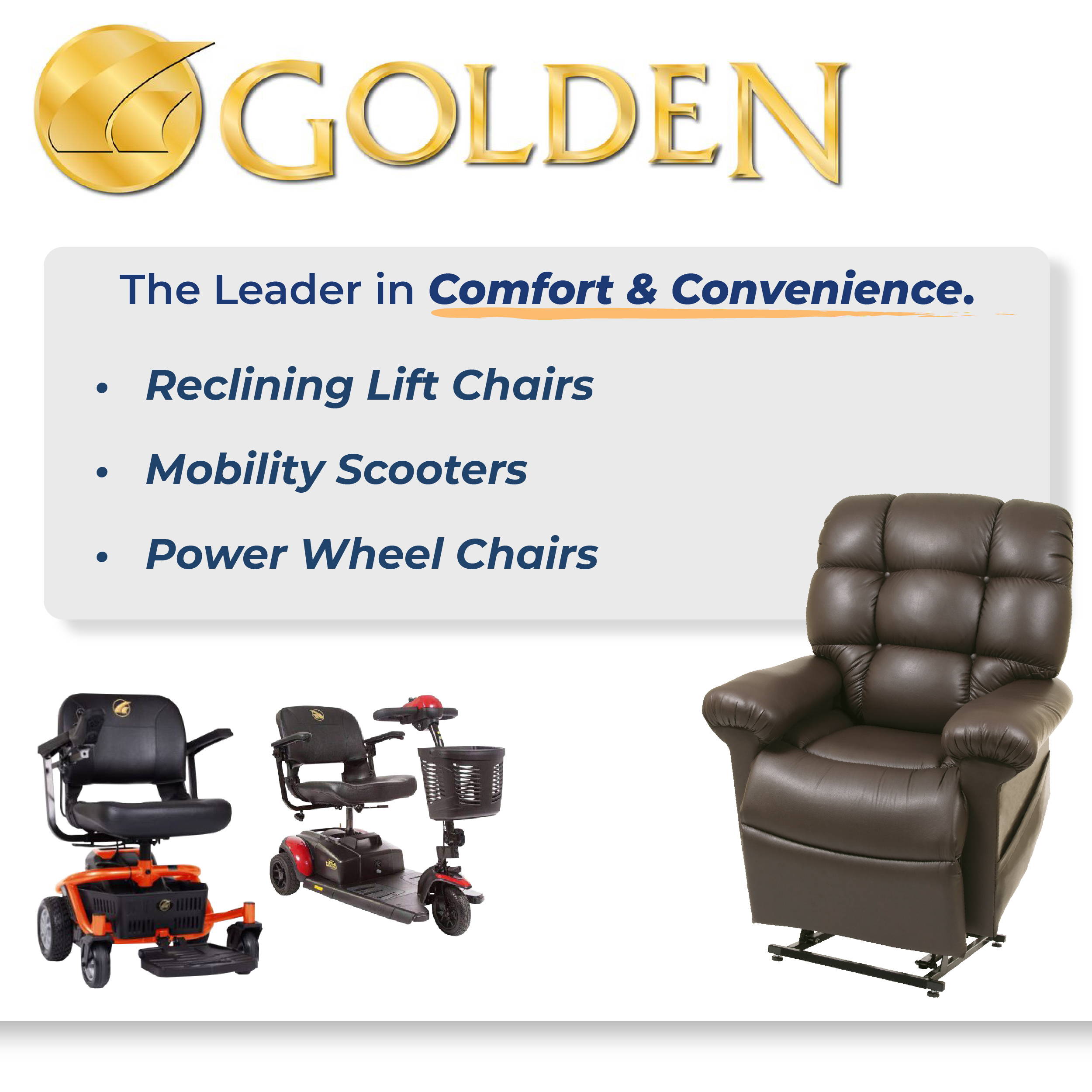 Golden Technologies - Premier Lift Chairs and Power Mobility
Golden's products set the pace in our industry for performance, convenience and comfort, because they all begin with superior materials, designs and craftsmanship. As a family-owned and operated company, Golden Technologies is proud to be the world's leading manufacturer of luxurious lift and recline chairs. We take great satisfaction in the superb craftsmanship and lasting durability of all of our growing lines of Lift Chairs, Power Wheelchairs and Scooters. Golden Tech uses only the highest quality components to give you the ultimate in comfort, convenience and style — with minimum maintenance.
When you take a Golden lift chair, power wheelchair or scooter into your home, you gain a sense of independence, mobility, freedom, accomplishment, and belonging. People trust us, and we are committed to doing everything we can, every day, to live up to those high expectations.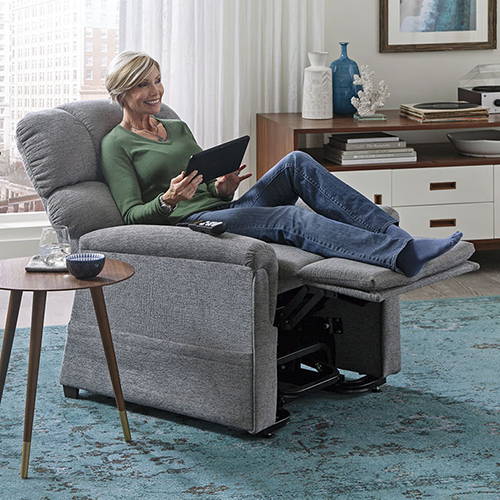 Discover America's leading brand of power lift chairs with patented comfort that no other company can offer in a wide variety of styles for every home! Family owned and operated since 1985, our lift recliners are built to last and backed by the Golden's exclusive lifetime warranty!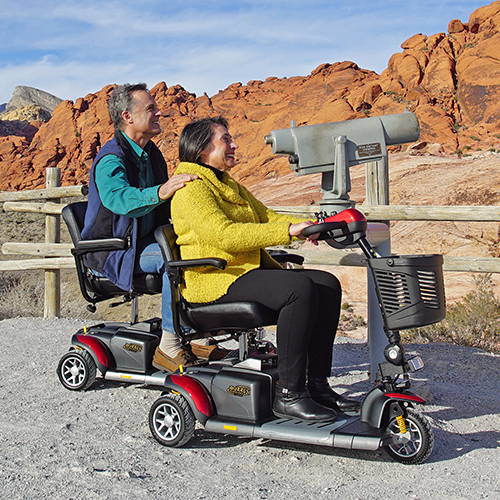 Introducing America's favorite line of mobility scooters including the first FULL-TIME Luxury Travel Scooter allowing for all-day use and easy transport, too! The Buzzaround LX is shipping now! Golden Scooters are class II medical devices.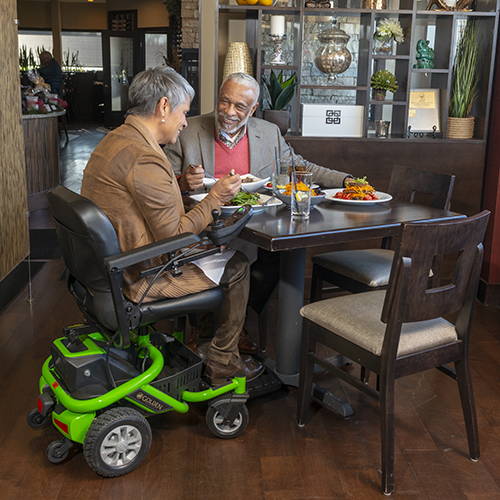 Home of the world's favorite portable power wheelchair! The Golden Envy is the lightest, most maneuverable, least expensive portable power wheelchair on the market! Golden power wheelchairs are class II medical devices.


Learn About Zero Gravity Recline
Learn About TWILIGHT Technology

Highest Quality Recliner Fabrics
When it comes to performance, comfort, and style, Golden Technologies' array of power lift recliners is unmatched in the industry. It's no wonder that the fabric we use gives you the same high quality and range of choices to please every taste and need—including our exclusive luxury Brisa® and high performance fabric with Alta™ technology, plus a full palette of plush fabrics and colors. At Golden, we understand how important your lift chair is to you, and we want you to relish in its appearance and durability, as well as its functionality.
Model number is verified.
Fabric color is verified.
Options are verified (inapplicable).
Chair is inspected for fabric cleanliness.
Upholstery is inspected for the direction of nap.
Upholstery is inspected for seam integrity and holes.
Any loose threads are trimmed.
Leg levelers are checked and tightened.
All frame bolts are tightened.
Footboard gap verified as even and straight.
Placement of five French tacks is verified.
Proper law tags are located and verified.
Motor clevis pins are locked.
All wires are wrapped and fastened with tie wraps.
Lift grace bolts are securely fastened to bottom arms.
All scissor mechanic bolts are present and tight.
Poly packs are inspected and no staples are touching the metal frame.
Chair is inspected for broken, damaged, or missing parts.
Frame is inspected for split wood.
Chair is inspected for loose staples.
Heat function is turned on and tested, when applicable.
Washer placement, number of washers at motor clevis, and straps are verified.
Serial number labels are attached to the lift frame and hand control cord.
Lift and recline buttons are tested for functionality.
Sleep position is verified.
Sit position is verified.
TV position is verified.
All massage buttons and massage zones are turned on and tested, when applicable.
Hand control LED lights are observed. Lights are dimmed when not in use and brightened when any button is pressed.
Up and down arrow buttons for back and footrest are tested for functionality.
Transformer is plugged in and LED lights (SmartTek

®

) are checked on the transformer, hand control, and the motor wire.
Chair is ridden from fully reclined to the full lifted, ensuring smooth and quiet movement.
While seated, the chair is inspected for the proper foam and firer regulation, i.e. no bumps or uneven stuffing.
Proper owner's manual is added.
Arm covers are added, when applicable.
Appropriate hand tags are applied with swift tack gun.
Model number, model options, serial number, and sales order number are scanned from work order and box tag.
Motor serial number is scanned.
Transformer serial number is scanned.
If the chair passes inspection, it is sent to boxing with the box labels.
Golden Offers Lifetime Warranty on Exclusive Luxury Fabric Line
Golden is pleased to offer the only lifetime warranty for all Brisa® breathable fabrics on lift chairs in the industry!
Brisa® is an incredibly soft and luxurious faux leather fabric available on lift chairs exclusively from Golden Technologies. Brisa is the first polyurethane fabric designed with a unique ventilation system that enables it to breathe, keeping you cool and comfortable, no matter how long you use the chair. Brisa's subtle grain pattern is created through a natural process that simulates the supple surface of genuine leather. You can choose from a tasteful assortment of colors.
Stain, scratch and blemish resistant
Clinically proven to be more resistant to temperature changes than vinyl and genuine leather
Superior comfort in all climate conditions — stays cooler than leather in warm weather conditions
Resists cold weather stiffening and cracking
Cleans effortlessly with soap and water
Lifts most stains with alcohol-based household cleaning solutions
Disinfects with a 5:1 water-to-bleach solution
SmartTek® is a patented self-diagnostic technology standard on all Golden lift chairs. SmartTek notifies the user if there is an electrical malfunction with their chair, helping technicians to diagnose the issue quickly and easily over the phone, saving valuable repair time! SmartTek gives the repair technician a better understanding of what parts they will need to repair the chair before they even leave the office.
How does SmartTek work?
Golden's patented SmartTek system uses three LED lights to signal when the chair is not functioning properly.
You should first check that the chair is plugged into an electrical outlet, that the fuse or breaker for that outlet is properly working, and that all other connections are plugged together properly. If your chair is still not working, please check the following:
The green LED lights can be found:
1. On the two-button hand control for non-MaxiComfort® models. The MaxiComfort AutoDrive™ hand control features backlit buttons which serve as the SmartTek light for those models.
2. On the transformer.
3. On the wire that plugs from the motor into the transformer.
If all three LED lights are not lit, the user should first check that the chair is plugged into an electrical outlet, that the fuse or breaker for that outlet is properly working and all other connections are plugged together properly.
When the green LED on the transformer is not lit, it means that electricity is not getting to the transformer or there is a malfunction with the transformer and it needs to be replaced. When the green LED on the wire from the motor to the transformer is not lit (but the light on the transformer is), it means there is no power coming from the transformer to the motor.
When the green LED on the hand control is not lit, or the buttons on an AutoDrive hand control are not lit, and the chair is not working, there is a possible defect with the hand control.
The most sophisticated heat and massage system is available on select models of Golden lift chairs!
Experience this luxurious massage system featuring:
Dozens of massage settings covering two different massage zones: one across the lumbar (lower back area) and one in the seat
Four massage motors provide relief to stiff, tired and strained muscles
15 and 30 minute massage timers
Activate any of the massage zones while in Wave or Pulse massage settings
Independent adjustable massage intensity and speed settings
Relax with soothing low and high penetrating heat.
Independent 30 minute heat timer
Soothe back muscles with our warming heat system
Low and high heat settings
AutoDrive™ 3.0 makes Our #1 selling brand of lift chairs easier to use than ever!
Golden introduces AutoDrive 3.0, the latest revolution in power lift and recline chair positioning technology. No other lift chair can effortlessly drive you to the pre-programmed Zero-gravity, TV or Sleep positions while also allowing you the ability to set your perfect position quickly and easily!
AutoDrive 3.0 has a new look, with a button layout that is more user-friendly and intuitive. AutoDrive 3.0 is also safer with the option for a partial lockout or full lockout. Its buttons are backlit and automatically dim when not in use, and provide an audible click noise when pressed so you know the button has been engaged to move the chair.
Total Control
with just two buttons!
AutoDrive's Lift and Recline buttons operate the same way as the buttons on a two button lift chair hand control, giving you easy and Total Control of your lift chair!
"Lift" gently raises you to the standing position no matter how you're relaxing in your chair.
"Recline" makes it easy to find your favorite position to take a rejuvenating nap or a get a great night's sleep.
Position Control provides comfort
unlike any other chair.
P – This button is used to reprogram the preprogrammed positions or activate lockout features.
ZG – glides you into the pressure-free comfort of the Zero-gravity position, where the spine, hip and knee joints are balanced and positioned to provide natural relaxation and minimal muscle tension.
TV – is designed for upright relaxation. The seat of the chair raises to create a neutral lower body posture. The backrest stays upright, providing neck and head support.
SIT* – allows you to relax while eating, reading or spending time with family and friends.
SLEEP* – Enjoy our factory set sleep position, or program the SLEEP button to move the chair to the perfect spot to ensure your great night's sleep!
HEAD (Up & Down) – On Chairs with Power Pillow™ Headrests, Head Up and Down Buttons Replace SIT & SLEEP
*On Standard AutoDrive Remotes
Custom Control
makes it easy to find your perfect positions!
These arrows allow you to independently move the footrest and backrest.
To get into the Trendelenburg position, use the ZG button to move to the Zero-gravity position. Then use the backrest down button until the chair stops moving.
New design raises backrest 31% faster than previous models!
Our power lumbar features a solid metal actuator that offers firm support behind your lower back. The power lumbar pushes from behind the padding, meeting your lower back to provide support where you need it most. The benefits can be best felt when laying back in the chair.
Head Pillow Add-On
This adjustable head pillow can be made of the same fabric as your chair. Available as an add-on to any custom "builder" power recliner order or can be custom ordered by itself from any Golden dealer. It features a zippered back allowing for adjustable fill. Pillow is rear counterbalanced with a weighted sandbag to keep it sitting on the back of your chair.
Extend the length of the chair 3-5″ inches when fully reclined!
Available on these models:

| | |
| --- | --- |
| PR401-SME | PR505S |
| PR401-MLA | PR505M |
| PR501S | PR505L |
| PR501M | PR505T |
| PR501L | PR505-M26 |
| PR501T | PR508M |
| PR501S23 | PR756MC |
| PR501M-26D | PR756L |
| PR501L-26D | PR501T-28D |
Give relief to the lumbar! Place it in AutoFlex.
Did you know that 2/3 of all adults suffer from low back pain and discomfort? Golden does.
If you're like most adults, spending your day sitting at a desk, in a car, on an airplane, or standing for extended periods of time, your lumbar region would benefit from a good stretch at the end of the day. That's why Golden is proud to introduce the dynamic AutoFlex™ power lumbar system to slowly and gently stretch the spine and surrounding muscles in the lower back area.
When sitting in the PR510-MLA Cloud with AutoFlex, you will feel the power lumbar massage system expand your lower back, then gently return to rest it in the neutral position. The speed of the flexing movement can be adjusted to suit your comfort level and personal needs. This continuous, passive motion, in combination with our Zero-gravity position, may bring relief to lower back pain related to standing or sitting for long periods of time. We recommend using AutoFlex daily for only 15 minutes and you may increase your mobility and active range of motion while preventing back discomfort.
Available only on the PR510-MLA Cloud.
Our Power Headrests slide on an articulating arch, lifting and lowering your head in a natural curve. Other chairs "fold" you over like a burrito, even pushing your shoulders over, and do not provide proper ergonomic support. Only Golden's power recliners featuring a Power Headrest or Power Pillow give you the correct support to provide you hours of comfort without pinching your neck.

Allows Feet to be Elevated Above the Heart that May Help with Treatment of:
• Lymphedema
• Post-surgical or Chronic Edema • Diabetes/Wound Care
Provides Comfort & May Contribute to Faster Recovery & Rehabilitation from:
• Cesarean Section
• Hysterectomy
• Mastectomies
• Breast Plastic & Reconstructive Surgery
• Shoulder, Heart, Abdominal, Hip, Knee & Foot Surgery
• Spinal or Cervical Fusion Surgery
• Amputation
Reclines the back to an ideal 30-degree angle recommended by physicians for post-surgical procedures, alleviating pressure on the lungs and proven to minimize:
• Acid Reflux Disease
• Sleep Apnea
• Chronic Obstructive Pulmonary Disease
• Congestive Heart Failure
Distributes Weight & Relieves Pressure Points
Provides Comfortable Positioning & Support While Breast Feeding
Allows Care Givers to Assist with Activities of Daily Living & Ambulatory Care
Golden leads the industry in power lift recliner features and advancements in technology.
High-performance stain-and tear-resistant fabrics make our recliner chairs more durable and long-lasting than the competition.
Our lift recliners are the strongest in the industry, featuring a northern maple hardwood frame and double doweled on all stress points, and reinforced mitre blocks that are stapled and glued for added durability.
Conveniences like heat & massage, gel memory foam, and automatic footrest extension make our chairs more comfortable, more personal, and more popular than ever.
And to top it all off, every recliner we build is put through a rigorous 40-point inspection before it ever leaves the warehouse.
Take a look through our many custom features and enhancements below that make Golden Technologies the industry leader in power lift recliners.
All recliners are handcrafted by American workers with domestic and imported materials (with the exception of the DeLuna Series recliners, which are designed by Golden and assembled by our offshore partner). Each chair undergoes
over 40 quality control inspections before the product is approved for shipping.


Golden PR502 Lift Chair Owners Manual -
Click Here
Golden PR445 Lift Chair Manual

- Click Here
Golden PR404 Lift Chair Manual

- Click Here
Golden PR117 & PR119 Lift Chair Manual -
Click Here
Golden PR118 & PR202 Lift Chair Manual - Click Here
Golden PR515 & PR405 & PR761 Lift Chair Manual - Click Here
Golden PR446 & PR448 Lift Chair Manual - Click Here
Golden MaxiComfort Series Lift Chair Manual - Click Here









Helpful Articles From SeniorNews.com
Have Product Question Or Need Help Placing an Order?
Fill Out The Form Below and a Specialist Will Contact You Shortly