Human Touch WholeBody® 8.0 Swivel Reclining Massage Chairs
Certified Open Box
Senior Help Center
We are here to help! Whether you have a product question, order related question, return request or just need a friendly person to assist you, we are here to help! Our Customer Care Specialists are exceptionally trained to provide you with the assistance you need. Chat with us today or fill out this form and a Specialist will be with you as quickly as possible!
Experience ultimate relaxation and rejuvenation with the revolutionary Mind, Soul, and WholeBody® Soothing System. Release all tension and surrender your back, neck, and shoulders to a state of pure relaxation, courtesy of the advanced FlexGlide® 3D orbital massage technology. This cutting-edge innovation replicates the comforting sensation of a warm oil massage, melting away stress and promoting deep relaxation.
The Human Touch® WholeBody 8.0 takes your massage experience to new heights with its luxurious features. Utilizing patented warm air technology, this deluxe massage chair provides unparalleled relief for muscle tension, offering a soothing and comforting experience. With the BodyMap PRO®, you have the power to target specific areas that require attention, allowing you to customize your massage experience according to your unique needs.
Features:
FlexGlide® Massage Technology
Seven Auto-Wellness Programs
Patented Warm Air Technology
Headrest Pad with Sliding Pillow Adjustment
Base Swivels 55 Degrees
Retractable Ottoman with Foot and Calf Massager
Ideal for Users 5'0" - 6'2"
Indulge in the ultimate relaxation and therapeutic comfort offered by the Mind, Soul, and WholeBody® Soothing System. Let the FlexGlide® 3D orbital massage technology and the deluxe features of the Human Touch® WholeBody 8.0 transport you to a state of tranquility and well-being, leaving you feeling completely revitalized.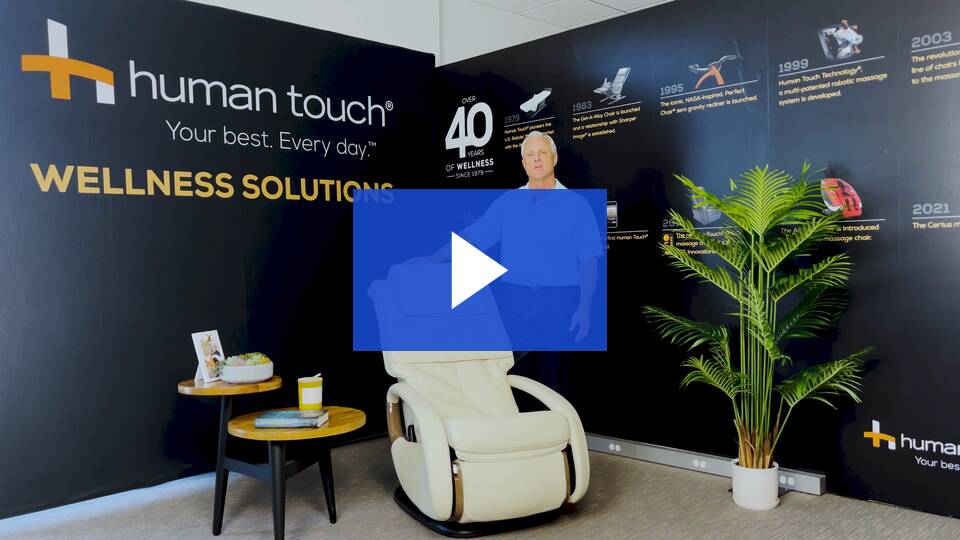 WholeBody® 8.0 Massage Chair - Human Touch®
Specifications
| | |
| --- | --- |
| Upright Chair Dimensions | 44"L x 28"W x 40"H |
| Reclined Dimensions | 66"L x 28"W x 29"H |
| Seat Dimensions | 21"W x 18"D |
| Product Weight | 114 lb |
| Shipping Box Dimensions | 58"L x 31"W x 34"H |
| Warranty | 3-Year Limited Warranty |
| Maximum Load Weight | 285 lb |
| Gross weight (in the box) | 144 lbs |
| Chair Recline Operation | Power |
| Recline Angle | 121-146 degrees |
| Distance to Wall | 9" |
| Patented Technology | Warm Air Technology |
| Massage Robot | 3D FlexGlide® Massage Technology |
| Calf Massage Height | 12" |
Check Out Our Promotions!
We always want you to save as much as possible while getting the products you want and need! This page is dedicated to all of our current and ongoing promotions across our entire site so you NEVER miss a good deal! Some deals are for a limited time only so don't hesitate to contact a product specialist if you have any questions.
Click On The Banner Above To View All Promotions
Masks & Protective Equipment